– It's inspiring to see the international interest in our Nordic start-ups, says Project Manager, Emilie Christensen.
For the sixth time
The diverse group of start-ups present at this Nordic Fund Day showcased solutions that will propel us towards greener, more environmentally and conscious cities. They are tackling many of the biggest challenges we are facing related to climate change, pollution, and resource exhaustion – and as we all know, the companies developing the solutions to cope with these challenges will be the once giving the biggest returns on investments.
Nordic Fund Day has evolved to be our main Investor Day for start-ups and investors solving urban challenges. It is Nordic Edge's most visual activity towards our international network of investors investing in, and supporting Nordic companies with smart and green solutions for our future cities. We have been building this network and creating Nordic Fund Day as a meeting place since 2021 with the goal of bridging the gap between entrepreneurs and investors who share a common goal of driving sustainable urban development.
When arranging it for the sixth time last week, over 50 start-ups, over 100 investors and 250MNOK had been made in investments at previous events. After the run through of the 11 start-ups presenting this time and hearing the buzz of the conversations happening in the room, we are hopeful these numbers will increase even further in near future.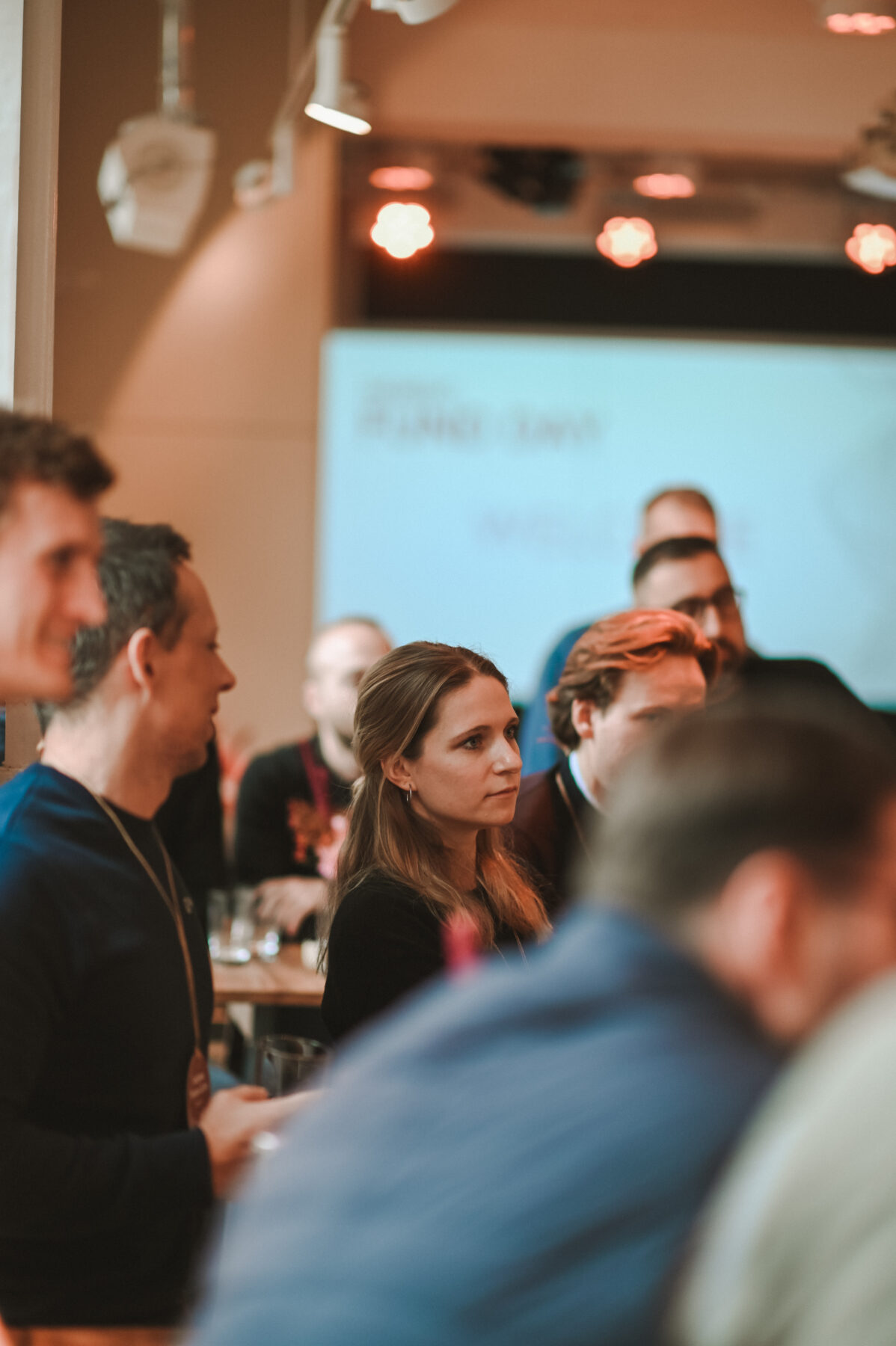 A glimpse into the Nordic startup scene
The diversity in the start-ups presenting gives a clear picture of the great talents, cutting-edge technologies, forward-thinking solutions, and a strong emphasis on sustainability and social impact that these Nordic start-ups represents. The start-ups that were selected and the investors that were invited all had their interests within these fields:
Spaces and places:
Proptech, architecture & city development
Urban Energy:
Use, distribution and production of energy in urban areas
Mobility:
Solutions for blue and green mobility
Communication:
Technology for enabling a smart and connected city
Citizen services:
Technology for education, community & inclusiveness
–
"It was a true pleasure to be a part of the Nordic Fund Day event. The gathering was a stimulating environment filled with engaging discussions, thought-provoking sessions, and a diverse mix of interesting investors and startups."
Martijn Balder, 2bx
The 11 start-ups of Berlin
Cogo is the only mobility app you need. Find, ride and pay directly with Cogo.
Cogo was started in Copenhagen, one of the most bike-friendly cities in the world. The enormous cityscape of well-paved bike lanes made it the perfect place to introduce shared bikes, combined with the new megatrend of e-scooters, electric cars and mopeds. This strong challenger of easy and simple alternative mobility to car ownership, quickly became cluttered and fragmented with hundreds of mobility operators across Europe.
Bintel offers the key to an automated and optimized future for waste management through actionable insights and recommendations.
Bintel work hard to digitize the waste industry together with their customers, so that they gradually eliminate inefficiencies, create savings and reduce the industry's CO₂ footprint to an absolute minimum.
Factiverse enable companies to establish credibility in a world of uncertainty and mistrust. They help businesses minimize the risk of AI, enabling them to spot factual errors, find reliable sources and maintain credibility.
Aqua Alarm provides next generation microbial water quality monitoring and management.
Aqua Alarm's mission is to redefine the microbial water quality monitoring and management in water networks and help water utilities around the world in bringing security and reliability to the delivery of our most precious resource, drinking water.
Clean Sea Solutions was established with the vision of creating commercially and environmentally sustainable ocean technology solutions for waterfront areas. Their aiming to mitigate the influx of marine plastic waste into the oceans, thus contributing to the preservation of the world's oceans.
Ntention is building a system of interaction between the people and the machines that is user centered – not machine centered. The machine will understand the user – not the other way around. Their goal is to understand the intent of the user and translate it to machines.
Legacy provides a simply way to calculate your building emissions and actively reduce the impact of your real estate portfolio. Within a year, Legacy grew to five like-minded, dedicated and passionate co-founders. With five different skill sets and profiles, they worked eagerly and voluntarily for a year to develop Legacy from an idea to what it is today.
Sally R provides a cloud-based service for commercial real estate, to achieve ESG goals. Optimized performance for your HVAC systems results in energy savings and improved air quality. Desired air quality levels in the building concerning temperature, humidity and carbon dioxide level can be adjusted. The solution can be customized, so that it only includes measurements relevant for each specific property.
NablaFlow is changing the way the world thinks about wind with the power of High-Performance Computing. NablaFlow is a new way to understand the flow of air. Their aerodynamic simulation tools make your dreams of flying into reality. They use their technology to help athletes and professionals in all fields, reshaping their worlds. Their mission is to empower people around the world by making it easier for them to understand their environment through wind simulations.
Autarc builds the OS for installers to become the heat pump champions. Legally required heating load, hydraulic balancing (B) and funding application in just a few clicks. Save up to 12 hours per project!
Powerpal is a smart hardware and software solution designed to lower energy consumption and reduce emissions. It makes informed decisions on when to route, buy, store and sell power depending on usage and price.
50 start-ups, over 100 investors and 250MNOK in investments so far. Nordic Fund Day is heading towards its seventh event in full speed with more spectacular matchmaking in sight.