Catch up on the talk on video or podcast.
Innoasis Science Talks is an arena for dialogue and debate between academia, private companies, the public sector and civil society. It's a place for researchers and professionals to bridge science and practice. Recordings of the talks will be published here:
---
---
Batteries will help us save the climate, but what about the environment?
When: May 11, 2021
What: In this science talk, we explore the environmental and climate impact of producing and transitioning from combustion engines and fossil fuels to electric motors and batteries.
Speakers:
Linda Ager-Wick Ellingsen – Senior researcher at the Institute of Transport Economics.
Jean-Baptiste Curien – Investment Manager at Nysnø Klimainvesteringer AS.
Svein Kvernstuen – CEO and founder of Beyonder.
Edge Computing & 5G – Opportunities in our future cities
When: April 20, 2021
What: What new business models and opportunities will the combination of 5G and Edge Computing create? And what challenges will arise related to security, dependability and performance?
Speakers:
Gianfranco Nencioni – Associate Professor, University of Stavanger
Henri Harmia – Head of strategy – Product Area IT Services, Telia
Ingvar Didrik Haukland – Manager, Ring Digital
Moderated by Anders Riel Müller – Project Manager of the Smart City Research Network at the University of Stavanger
Is the building industry stuck in the past?
When: March 9, 2021
What: How can building organizations move forward with cutting edge, scalable innovation?
Is it time to put out the fire in wood burners?
When: February 9, 2021
What: How dangerous is the wood burner for our local environment? The debate is raging.
Nudging – the Art of Positive Manipulation
When: January 12, 2021
What: Can we influence people to behave more sustainable without their knowing, and should we do it? Hear the science and practice of nudging from the University of Stavanger, Risk Management AS, Ducky and Footprint.
---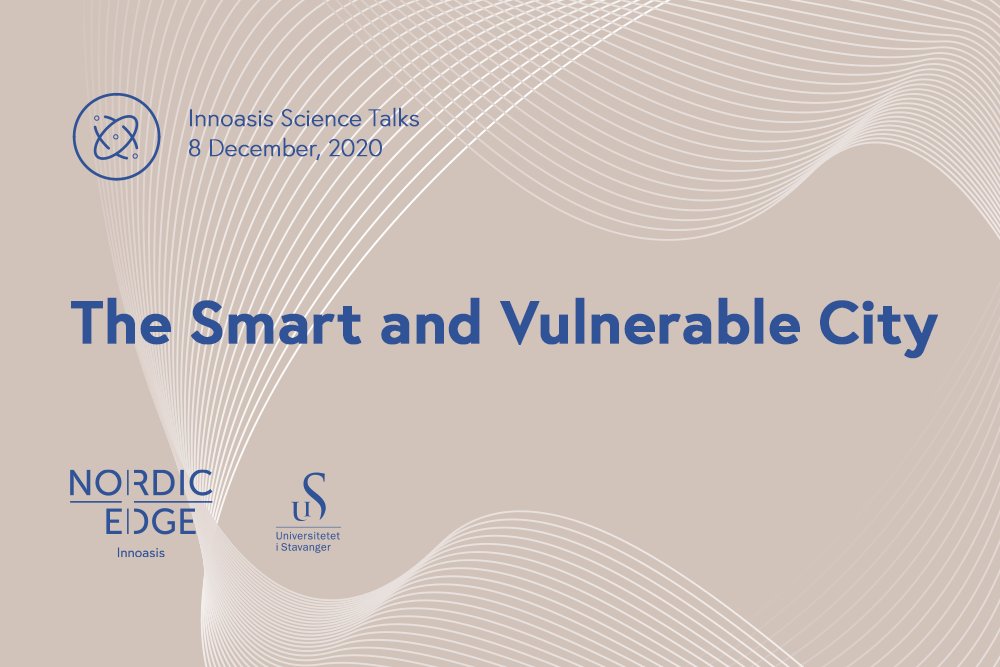 The Smart and Vulnerable City
When: 08. December. Recording coming soon.
---
What can smart cities learn from Tour de France and Surfboards?
When: 20 October, 2020
What: How can we use simulations and deep learning to enhance the livability in cities? Can city planners learn from Tour de France teams?
---
Will smart cities make us sustainable?
When: 18 August, 2020
What: Since the smart city emerged as an approach to urban development in the 1990s, it has become highly popular throughout the world. This first science talk will explore the concept of smart cities and take issue with the idea that smart city development is driven by techno-optimistic ideas and policies. Drawing on field work from three EU Lighthouse projects – Stavanger, Nottingham and Stockholm – we examine how smart city initiatives have affected urban energy sustainability.
---
The Feminist City
When: 10 December, 2020
How can we ensure that sustainable cities are equal cities?
Author Leslie Kern from York University and Sara Ortiz Escalante from Barcelona's Col·lectiu Punt 6 are among the presenters.
Listen to the podcast here also available from Spotify, Apple Podcasts and for Android.
---