From here to the future – how do we live and work? The region offers new offices and housing solutions, as well as developments that can move the borders further. Participants are invited on a journey that goes from planning, design and construction to the finished society in the future.
Transport: Bus
Time: 12:30 – 16:30
Registration: Maximum of 50 places – registration here
Programme: 
12.30: Departure from Hotel Victoria front desk
12.45 – 13.30: FOMO
13.45 – 14.45: Site 4016 – New Stavanger City Hall and Finansparken at Bjergsted will also be presented here.
15.00 – 15.45: Hinna Park, Jåttåvågen 2 Utvikling
16.00 – 16.30: Innoasis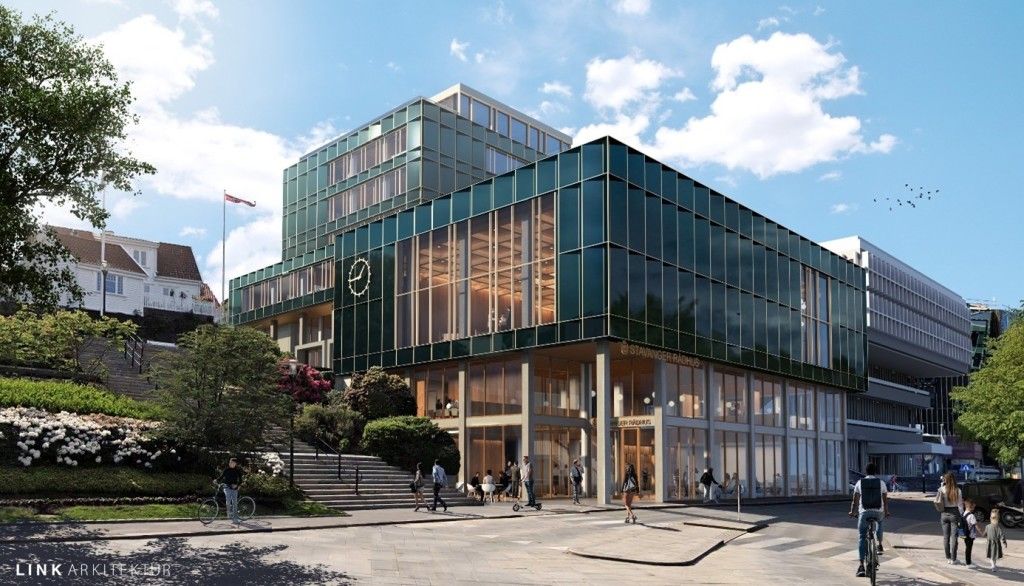 Stavanger City Hall
Stavanger City Hall is being renovated and transformed. We will get an inspiring presentation about why they are aiming for such ambitious goals about sustainability and technology. These include:
Smart buildings at level 3

Breeam certification at level Excellent

A construction site that is free from fossil

The use of wood

Solar energy production at 100 MWh/pr. Solar panels integrated in the facade and on the roof

Excess energy that is stored in batteries and used for "peak shaving"

Reuse materials, both concrete, light fixture and teak. Teak is used to make 1960s inspired furniture locally.

Electromagnetic sun screening system
Innoasis
A short visit to where we are building our innovation centre Innoasis.
Here we will gather start-ups, established companies, academia, and the public sector to create the best process from idea to finished product in an international market. We see a lot of potential here.
Innoasis is built on circular principles. With respect for both architecture and the environment, we are reusing steel and concrete from the previous building. Additional construction will be done in wood. We are looking forward to opening Innoasis as a place to work with a warm atmosphere and healthy environment.
The finance park at Bjergsted
We pop by the foyer and atrium at the new head office for SpareBank 1 SR-bank. Here the supporting structure is all based on wood.
Entering this building gives a warm, good feeling. We will show the spectacular architecture – where the organic shapes and the special staircase gives you a new take on how to create a workspace.
Site 4016
Site 4016 is a regional knowledge and development centre for construction. Here construction companies connect with each other to expand their knowledge, all while contributing to increased digitalization, innovation, and a decrease in cost.
Sjur Monsen and Heather Bergeland will present this project and talk about how they're working to reach their high sustainability goals for the future.
Jåttåvågen 2
The industrial area at Jåttåvågen is being rebuilt with an ambition to create a living district by the fjord with approximately 1500 houses and 6000 workplaces. The area includes the preservation worthy tower Skråtårnet and will have a central square with green areas and a new path along the fjord. OBOS, Camar Eiendom and Stavanger Utvikling are all working together to develop Jåttåvågen further.
Jåttåvågen will also be a new test arena for new smart technology – aiming at creating good, sustainable, and seamless facilities.
At this thematic tour Helge Eggja, CEO of Jåttåvågen 2 Utvikling, will give us a presentation about this exciting project.
FOMO
FOMO wants to help you attract the best people out there! They believe ambitious and talented employees are the fuel of any successful company. But that attracting and keeping these people is often a tricky feat.
To solve this issue FOMO was created; to make companies stand out among dinosaurs and outdated offices.
MAKE COLLABORATION HAPPEN – More than 50 % of our workday is spent interacting with colleagues! At FOMO they focus on making your employees into faster, better and more productive versions of themselves by changing the environment into a collaborative playground for innovation.