NB! City of Stavanger at the square will be closed on Thursday due to bad weather.
Visit City of Stavanger at the main square in Stavanger city centre to join their activities and learn more about their projects (no registration required).
Location:
Main square in Stavanger City Centre
When:
Monday 20th September – 11:00 – 15:00
Tuesday 21st September – 11:00 – 15:00
Wednesday 22nd September – 11:00 – 15:00
Thursday 23rd September – 11:00 – 15:00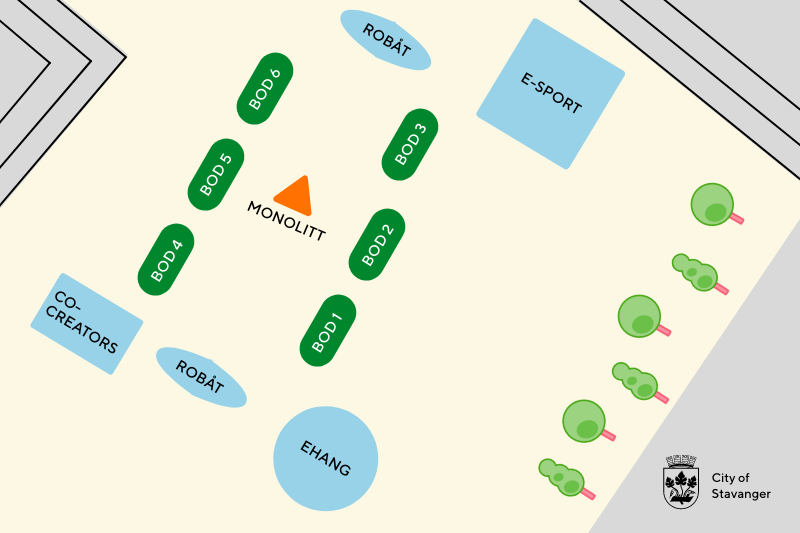 Meet us at the Square!
The City of Stavanger wants to showcase everything they already do for the citizens, at the same time as the create an arena for citizen involvement and accessibility.
At the market stalls in the main square in Stavanger city centre the City of Stavanger will show a wide range of projects they work on, from smart art, to climate technology, green change, tomorrow's expertise and welfare technology.
A completely separate square shed is set aside for citizen involvement, where the projects can have direct contact with residents, and where residents can be involved in influencing the outcome of projects.
Check out the content of our different market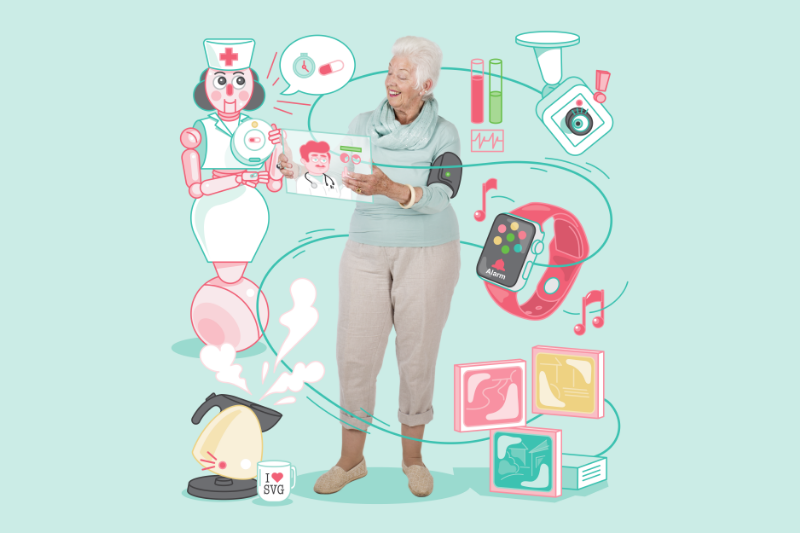 Stall 1: Live your life – longer
The health department in The City of Stavanger are showing both physical products and digital projects at their market stall in the main square.
Motitech
Motitech is a norwegian company focused on increasing physical and mental wellbeing using a specially adapted indoor exercise bikes, video and sound. The users can take cycle trips through familiar surroundings and childhood memories, join competitions and keep active.
Evondos
Evondos is an automatic medicine dose dispenser which liberates care staff from the mechanical work of medicine dispensing, so that they can focus on functions that require human interactions.
Moto Tiles
Moto tiles are a tool for physical play where they combine robotics with play to create products for effective, fun and motivational exercise. Each tile has a pressure-sensitive area in the middle and 8 lights that can light up in any colour. This allows for a huge variety of games to be played on the tiles.
VKP – Velferdsteknologisk knutepunkt / Welfare technology hub
VKP is a service which handles data flow between welfare technology solutions and other e-health systems, such as electronic patient records. The aim is to facilitate the increase in welfare technology, allowing it to become a natural and integrated part of nationwide health services.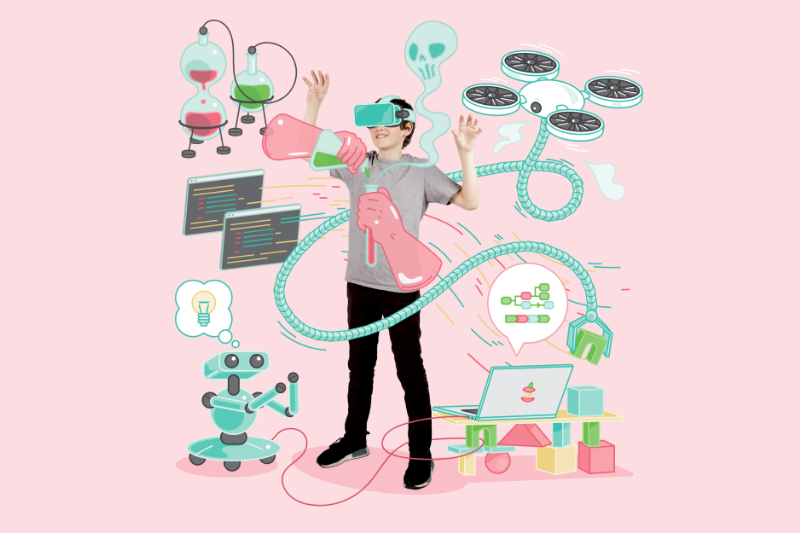 Stall 2: Smarter together
Kvikktest
The City of Stavanger has adopted the urban development model originally called Agile Piloting, and rename it Kvikktest (quick test). We discovered a growing need to find a way to experiment more with startups and SMB. The process starts with defining a local challenge and then pick out a handful companies who have different new and unique solutions to solve the challenge. A Kvikktest project lasts for six months, where the focus is on creating prototypes, testing their solution, learning and then repeat the process.
Storhaug Unlimited
Storhaug Unlimited supports passionate entrepreneurs with ideas on how to solve social challenges in one specific area of the city, Storhaug. We believe in social value creation by giving local residents the opportunity to start their own business and hosting them in a neighbourhood incubator, a safe spot for them to grow.
Tjenesteinnovasjonsmodellen
The City of Stavanger use different models we use as tools in different projects. This model is often used in projects which require creativity, idea generating, prototyping and testing to find solutions.
This specific model helps us think of processes as a whole with a total of six steps, which is very important in any project.
Ungt Entreprenørskap
Ungt Entreprenørskap / Young Entrepreneurs is a non-profit nationwide organization which, together with the education system, the business community and other stakeholders, work to develop creativity, joy and confidence within young children.
In the SMART, we let students identify needs, develop ideas and find solutions. This trains students in 6th grade in formulating questions, seeking answers and help define their own way of learning.
This week the students will show their prototypes, which they made recently to solve a challenge presented to them by The City of Stavanger.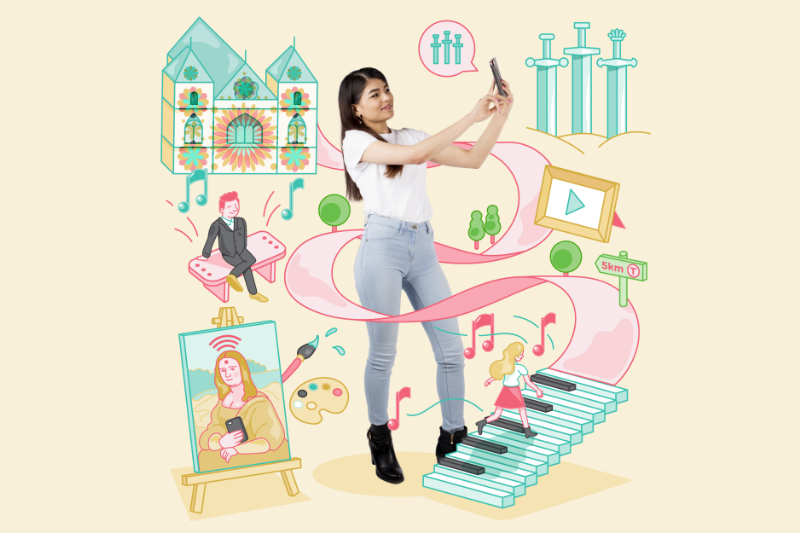 Stall 3: Art is knowledge
Nuart x Google Arts & Culture
Through a collaboration with Reed Productions, Region Stavanger, Stavanger sentum AS and Rogaland County Municipality, Stavanger Smart City present Nuart x Google Arts & Culture – a digital platform for the public to explore the region's urban art offerings, which now counts over 300 unique artworks. Nuart x Google Arts & Culture are now accessible through a free mobile app, which allows the public to take on a role of a street art archaeologist discovering and excavating gems in the digital realm. Navigating through time and space, the online visitor is invited to experience the full story of Nuart, in a way never before seen. The goal is to inspire both visitors and residents to explore the city and region as an open art museum.
Broken Column info
Stavanger Art Museum MUST have collaborated with City of Stavanger and Anthony Gormely Sudio to launch a digital art hike, to offer insight to Antony Gormley's site specific sculpture project 'Broken Column' (2003). Broken Column consists of 23 identical rusty steel sculptures mounted outdoors and indoors in public, semi-public and private places in Stavanger. The art project encourages us to explore and investigate the surroundings of Stavanger more closely. In the digital 'Broken Column art hike' every sculpture and place is marked on the map, companioned with photos and text. Have a nice city hike – digital or outdoor!
Prosject Seafront
Together with the University of Stavanger and the departments of culture and urban development, Stavanger Smart City has launched a project that seeks to explore the use of artistic research and practice as part of the processes of area development and planning. Both internal and external funds have been granted for a collaboration between artists and planners in the Hillevåg and Paradis area. The artists contribute with site analyses, insight work and participation processes.  KORO, the national competence centre for art in public spaces, is particularly interested in following the innovation work Stavanger Smart City does to challenge the established structures in urban development.
Sevenonseven
Following an inquiry from Rhizome to Kunsthall Stavanger, Stavanger Smart City entered a partnership to arrange Sevenonseven (7×7) in Stavanger.
Sevenonseven is about promoting innovation, co-creation and technology through connecting seven leading researchers and entrepreneurs with seven internationally renowned artists. These groups are invited to collaborate to create something new – ideas, concepts, products, services and more. Kunsthall Stavanger arranged 7×7 digitally in 2020 on the website https://7×7.no/nb/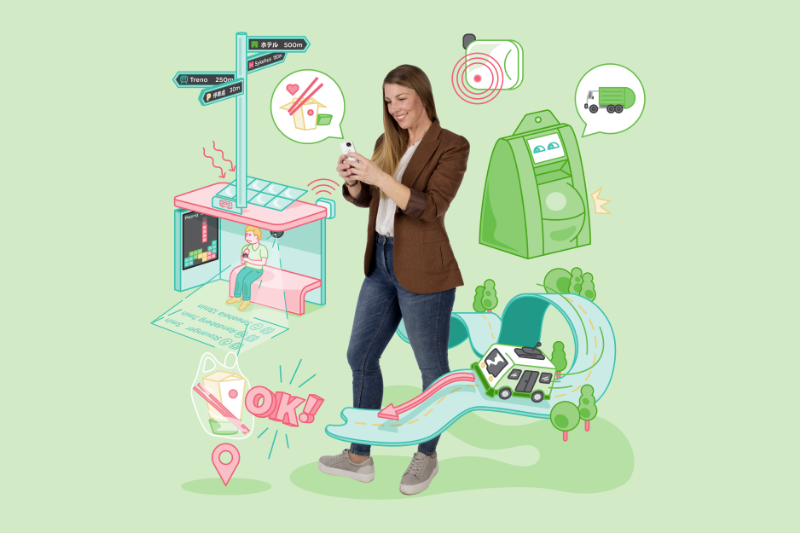 Stall 4: Greener days – this way
Brukbrukt.no is a website where you can learn about reusing, and get tips and advice on which companies, events and websites work with reuse in different ways. Brukbrukt.no is launching their very own pop-up second-hand shop at the main square, where you can find new vintage bargains every day.
Pick-me-up
Pick-me-up is a part of an EU-project focusing on supporting new businessmodels utilizing healthy food, making it more accessible and inclusive for the local neighborhoods. The city of Stavanger chose two companies, co-creators and Reveel, to help solve this challenge.  Co-creators explore the most suitable pickup points for local products and create awareness and Reveel make local food products available for customers in a safe and accessible way.
Local safari
Local safari is a foodbox consisting of local ingredients only. Even their boxes are locally made. Come by to see how you can get your hands on one of them.
Multi purpose tableware
The city of Stavanger is also launching their brand new multi purpose tableware in reusable materials, which are being tested as we speak. The days of using disposable tableware will soon be over.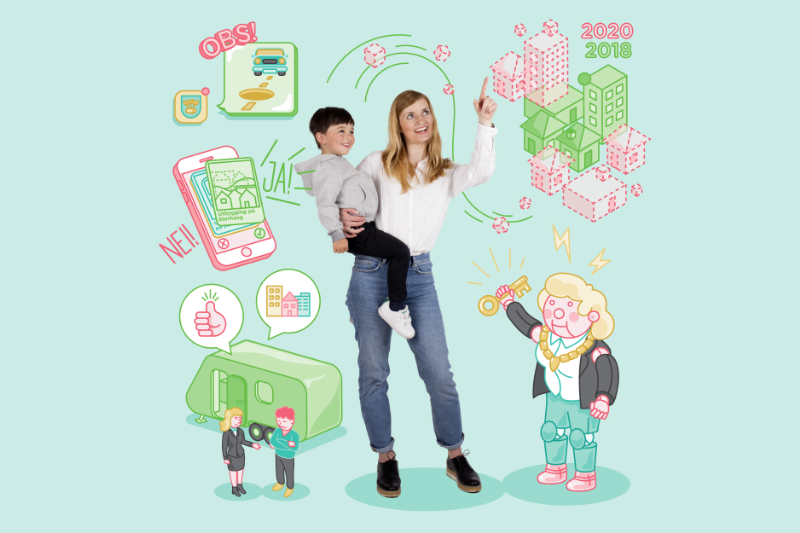 Stall 5: Citizen participation
Innbyggerdialog / citizen dialogue
This year we have a very own market stall dedicated to gathering insight from inhabitants in the city of Stavanger. We have our very own department concentrating on dialogue with citizens. They consists of two sections, volunteering and citizen service. They are kindly asking the residents of Stavanger to help them develop their strategy to fit the needs going forward.
Decidim / Mitt nabolag
Decidim is a digital tool for involving residents in various projects. Residents wants to be listened to and want to be involved in decision processes concerning parts of their life.
Decidim will use the Nordic Edge Expo platform to launching their tool nationwide for everyone to use.
The City of Sandnes
The City of Sandnes has a strategic focus on including children and young adults called "Barnas by / the childrens city.  They are including children in projects ranging from art to city planning and urban development.
Their focus on children is also visible through a boardgame called Byspillet / The city game, used to motivate children and young adults to help developing parts of their own city.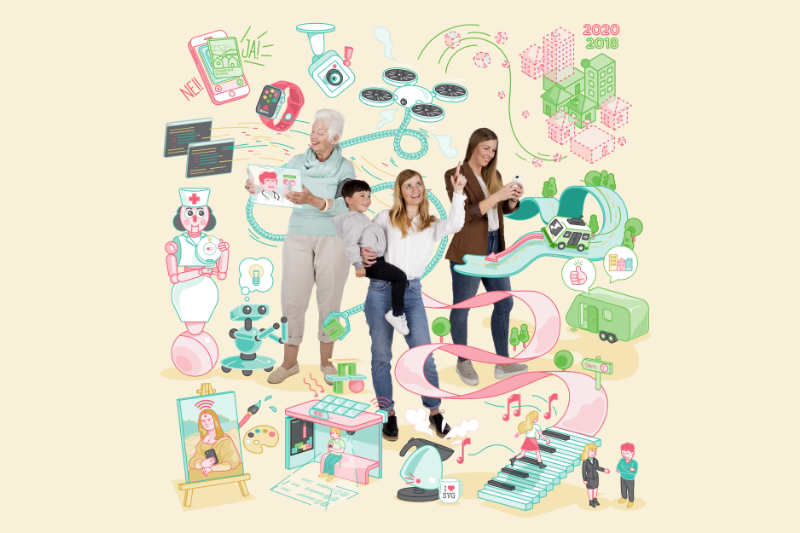 Stall 6: The City is Alive
The City of Stavanger / The City of Gjesdal
The City of Stavanger and Gjesdal are displaying how they are using sensors to measure if the roads are slippery as a result of sub-sero temperatures. Data from the sensors can be used in multiple ways; to notify residents of changing in road conditions, and to notify workers in charge of salting icy roads.

The City of Sandnes
The city has built a biochar plantation where organic waste is converted into local heat and biochar. The city will be able to use the organic waste from parks and forests as raw material for the plantation. The project was started after positive results came from a pilot project in the The city of Stavanger.
The City Of Sola
Sola will display posters showing two different projects. The first project demonstrates how they are using innovative solutions to solve challenges related to their local water system. The second project is a smart bicycle crossing using a thermal camera technology to registers the cyclist and changes the lighting to green before crossing the road.
Lyse
Lyse is a local partner in various projects in The City of Stavanger, focusing on renewable energy, sensor technology and continuing their work with the construction and development of socially critical infrastructure, which enables the electrification and digitization of Norway. Their goal during the conference is to show how Lyse contributes to the region as a community builder but also by supporting and helping to develop startups. Tectal – a local startup focusing on sensors, is a highlighed example of this.
Atea
Atea is an IT company, who deliver a range of products in technology and IT. Atea is showing a wide range of projects during Nordic Edge Expo. The first project is a climate panel which they developed on request from the United Nations. The second project is a sensor which is used to measure dirt and clogging in manholes. The last project they are showing is a tool used to measure temperature, for example if a resident has a feber during their visit to Atea at the main square.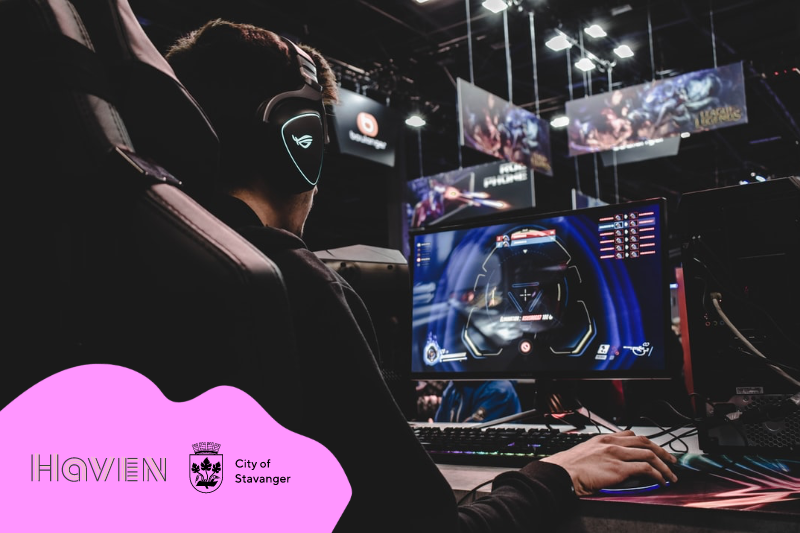 Esport Container: The City of Stavanger & Haven
The City of Stavanger believes that supporting esports initiatives will not only support the competence of the future, but also bring capital and attract a major esports event, that would generate a great deal of value for our region.
At the Esport Container you will also meet Haven, a local company that creates places and spaces for everyone that loves esport and gaming. They arrange tournaments and practice sessions. This is a place where you can hone your skills and your interest together with a competent staff and other members.
Visit our Esport container with Haven to learn more about the effects of esports and play a game or two!