Rethink the future through cutting edge technology at AEC Hackathon. Join us for a weekend of learning, collaboration and innovation.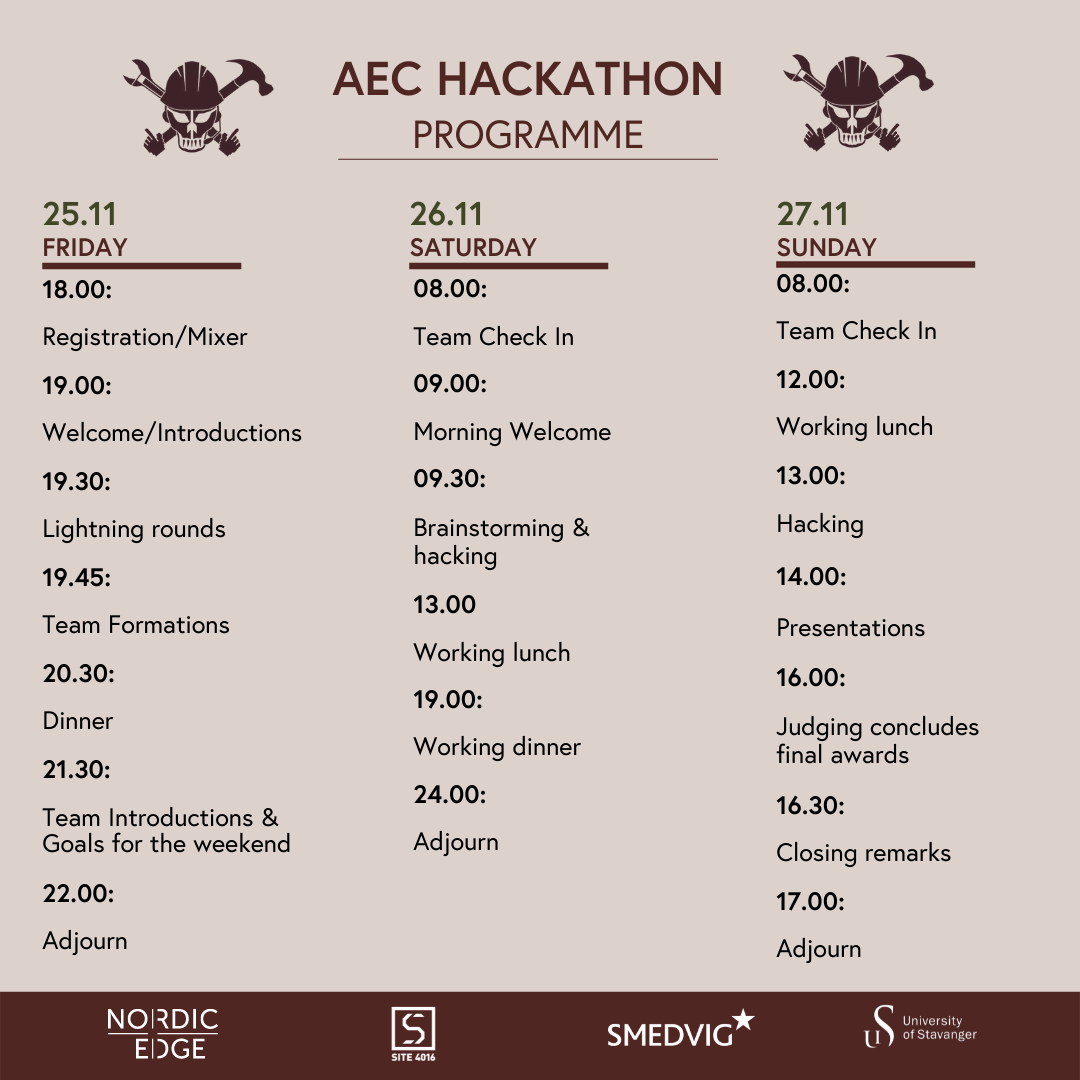 Global challenges of urbanization and climate change require new ways of thinking. The AEC (Architecture, Engineering, Construction) Hackathon give those designing, building, and maintaining our built environment the opportunity to collaborate with cutting edge technologies and its developers and designers. 
For hackers and non-hackers
To attend the Hackathon, the only requirement is that you are interested in collaborating with others to solve urban challenges. Participants don't have to be familiar with coding or hacking to attend. Whether you are a tech professional, property owner, student, company, nerd, or just interested in collaborating with others to improve the built environment, this is the place for you.
Connect, gain knowledge and solve challenges
Over the course of three days, groups come together to solve challenges with designers and developers from the AEC industry. The challenges can be based on your everyday work life or a larger challenge presented to you by an organization. In addition, you will get the chance to gain new knowledge through inspirational talks held by professionals from the industry. At the end of the Hackaton, each group will present their solution to a jury who will crown a winner.
You can join individually, with a colleague or with a group. If you join with a group, be prepared to open up your group for participants from other companies. 
Use the links on the right to get your ticket today!
Note that the price varies for tech and construction companies. The price covers access to the event and food during the days. There is also a limited amount of free student tickets available.
Questions? Contact Malin Petrea Jørgenvåg at malin@nordicedge.org.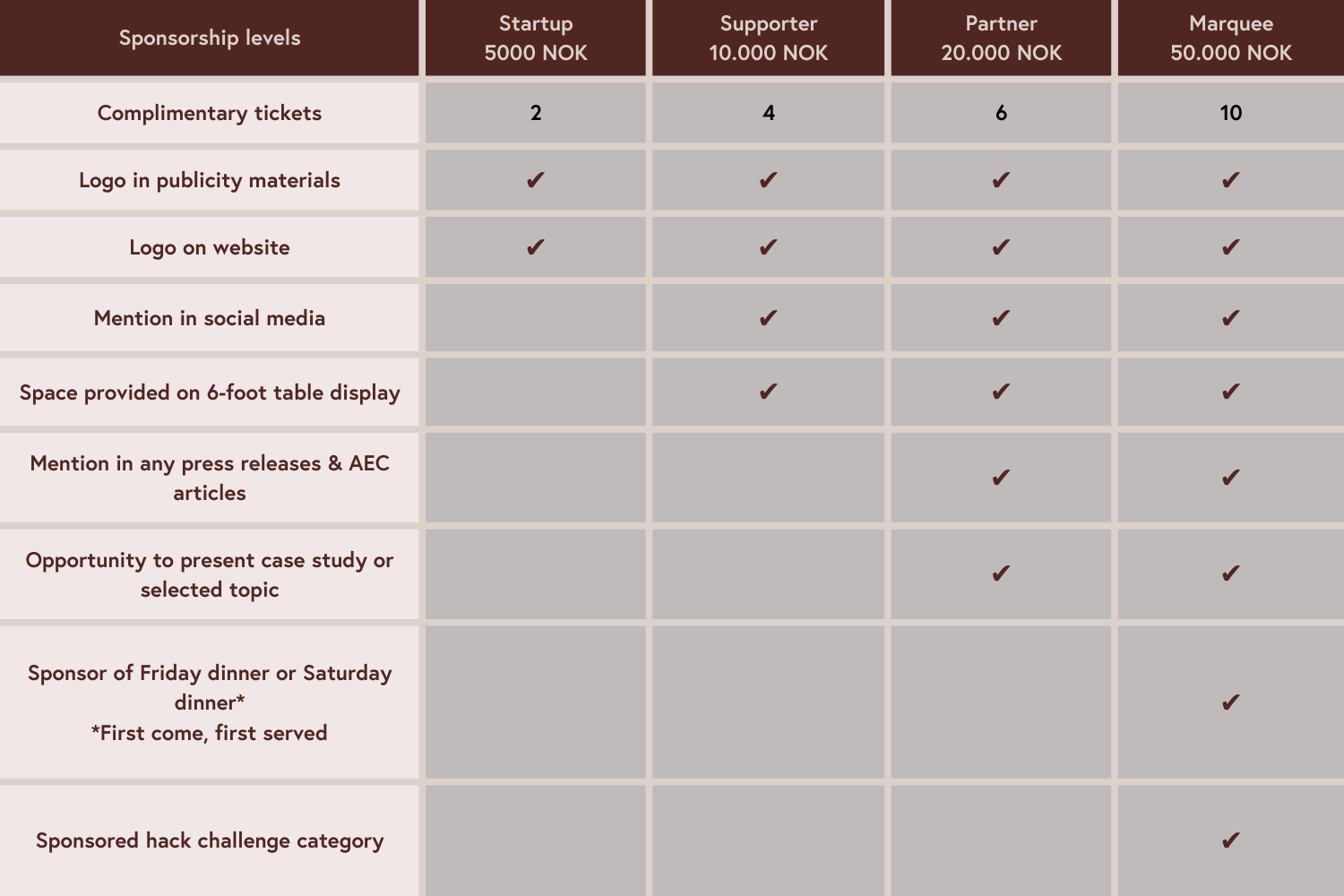 Become a sponsor of AEC Hackaton
AEC Hackathon is the leading event for creating innovation that improves how our world is designed, built and operated. Since its start in 2013, more than 45 hackatons have been held across the globe. The focus of the event is not on technology for technology's sake, yet to build human relationships, expand knowledge, develop solutions and hack into traditional processes and workflows of the built environment industries to generate innovation.
Position your company and attract new talent
The event gathers professionals from the built environment, including architects, engineers, contractors, owners, software & hardware developers, construction managers, digital fabricators, urban planners & designers, cloud software and big data developers, user interface designers, app developers, building product manufacturers, real estate developers, facility managers and corporate real estate professionals. Being a sponsor of the AEC Hackathon is a great opportunity to position your company, promote your solutions and attract new talent.
By becoming a partner, your company or organization will be prominently featured throughout the weekend.
Contact cdr@smedvig.no
Recap of the Open Data Hackathon
Watch this video from the last Hackathon hosted in Stavanger.
Open Data Hackathon was held at Nordic Edge Innoasis in march 2022. The event gathered students and professionals to solve challenges based on open data.
The participants were given data sets from the City of Stavanger, Kolumbus and Sparebank 1 SR-Bank. Here, they explored the open data to discover the possibilities of improving the citizens every day life.