After receiving great applications from all over the Northern Europe, the jury from Nordic Ninja, Lyse Vekst, Smedvig Capital and Concentric has handpicked the most promising startups to present their business idea to our international investor network.
Hidas develops high-tech, low-power solutions that provide customers with an affordable, safe, easy-to-use, and versatile charging experience.
Their solutions use existing infrastructure, meaning no expensive installations are required. Hidas charging solutions solve problems such as a lack of automatic metering, billing, safety and dynamic load management. Through contracting, they have installed over 1000+ charging stations (made by other producers) to fund their product development. They are now looking for funding for piloting and R&D.
Podbike® is ready to launch their first product FRIKAR®, which is an electrically assisted four-wheeled and fully covered e-bike with room for cargo or a child. It offers an attractive, practical, safe, and sustainable alternative for the daily commute. It is placed between a regular e-bike and a small electric car.
As an e-bike, FRIKAR® can access both roads and bike infrastructure, and it does not require registration or driving license. Being small and lightweight, it has a fraction of the footprint of a car, both in production and in use. Currently, there are no ebike solutions in the market offering the same performance, features and user-experience that Podbike wants to bring to market.
Findable digitizes building documentation, using AI to automatically categorize documents and allows users to locate specific information via a search function. The software can analyze headlines, pictures, and drawings, and quickly conclude what the document shows and how it should be organized.
With Findable, documents are more secure, complete and can be mined for information. This reduces the time consuming and manual process of managing complex documents, enabling construction companies and facility managers to streamline the process of inspections and certifications.
Charge BnB enables an ecosystem of electric vehicle charging by connecting drivers to shared charging points at their destinations, allowing for affordable charging for those who can't install their own home chargers.
Starting from September 2022, they are rolling out their solutions with Posten Norge, where several charging stations will be on-boarded in Askim, and the employees and customers of Posten can charge using the ChargeBnB solution.
Proptly is an entirely new way for contractors to communicate and conduct interaction that significantly reduces all information that is lost between: Contractor and customer, contractor and subcontractors.
Proptly streamlines communication and interaction for contractors towards customers and their subcontractors for material supplies. This means that one becomes far more efficient in material use and reduces wastage and delivery time/productivity. Raising capital will particularly help strengthen their commercial venture, recruitment of market team and further develop our technology.
Ducktrain is an electric, semi-autonomous delivery technology with tiny footprint. Being able to couple up to five single vehicles ("Ducks") into a platoon ("Ducktrain") and being controlled by a local leading vehicle or person, it realizes the efficiency of a full-scale van at a cargo bikes footprint.
Their vehicle technology is offered on an as-a-service base. Owning the vehicles, having access to the vehicles data and being able to upgrade (hardware) and update (software), allows for Ducktrain to improve efficiency and functionality continuously.
NablaFlow aims to make wind simulations easy and accessible for everyone through cloud based CFD tools like AeroCloud and ArchiWind. Their solutions help architects, urban developers, city planners and municipalities to design more sustainable and user-friendly cities, parks and buildings.
They have projects running with Stavanger kommune, Trondheim kommune and, Helen&Hard as well as other architects. In addition, Aeerocloud is currently being used by companies such as Bianchi, Pinarello, Kask helmets, Olympiatoppen and Ineos Grenadiers.
Defigo offers an administration portal for those managing buildings, keyless access and a high-resolution video intercom for those who live or work in them. Their customers can save up to 95% on time and costs related to the administration of access.
The Defigo solution is an all-in-one, keyless access solution for multi-family residential and commercial buildings. The company operates with a proven "Android-like" open-integration strategy that brings unique flexibility to customers seeking to modernize, digitize, and yet retain their existing access solution infrastructure, including general controls, elevators, and garage doors.
Kakadu's solution enables people to make use of modern, everyday technology. A sustainable solution: bridged by technology, quality-assurance and co-creating towards common goals.
Through their solution, private and public businesses can create guidance material that increase competence and help their customers use the company's services. It is also a way for residents to acquire new digital knowledge and keep up with digitalization.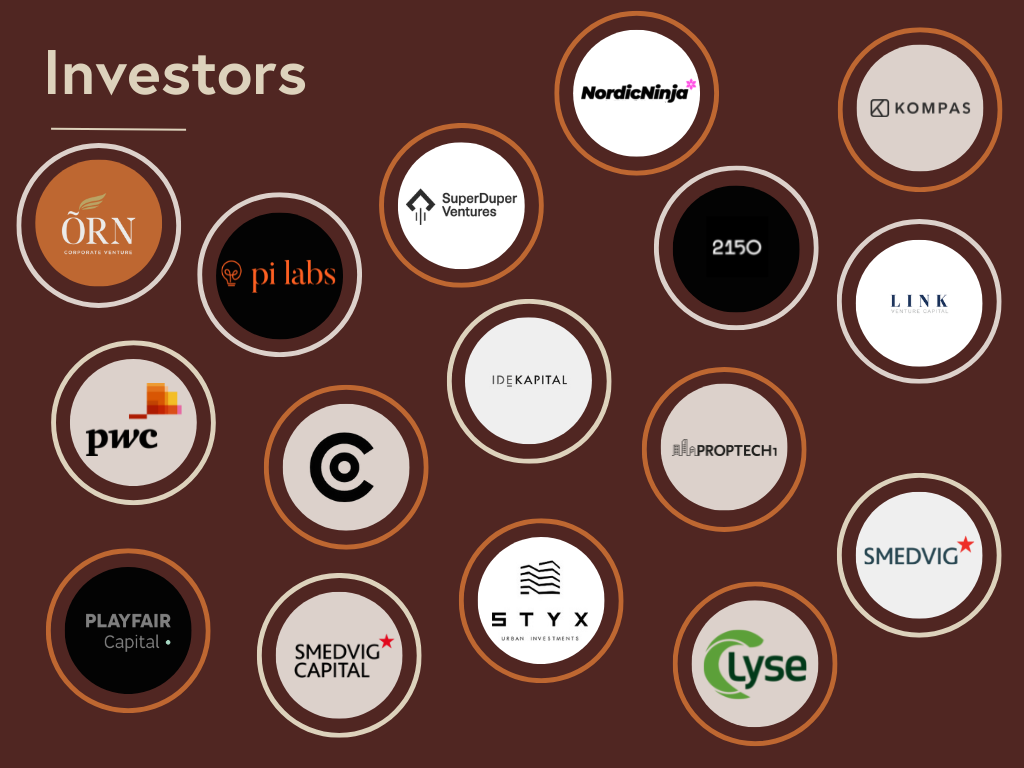 Looking to fund?
Are you looking to connect with the selected startups for Nordic Fund Day? Send an email to emilie@nordicedge.org
The feedback from last Nordic Fund Day was great, and Investor Nick Gosen from Kompas VC had this to say about the event:
"I got a lot of value out of the event. The balance between pitches and networking was great, and I really liked the mix of startups and investors. The atmosphere was amazing, and I hope to attend next years Nordic Fund Day"