The idea for Co-Creators started at a student hackathon Nordic Edge co-organised in 2019. Now they have started a company and are piloting their concept in collaboration with the City of Stavanger.
Introducing Co-Creators
Co-Creators is one of our newest cluster members, and we have thoroughly enjoyed to follow the journey they have undertaking in the last year and a half.
It all started at Future Energy Hack – Greener Places and Spaces in March 2019. Students Gunn Kristine Notland and Katarzyna Jakubiszyn were two of the participants to choose the City of Stavanger's case of coming up with ideas for creating a socially inclusive park in the Eastern part of the city.
Notland and Jakubiszyn's team came in second place in the hackathon, but the idea for Co-Creators was born.
Following the hackathon the duo brought in Marta Obi, and together they continued to develop the concept. Their aim is to create new and innovative arenas for co-creation across sectors and together with citizens for the common good – to further develop our smart and sustainable societies. Hence the company got the fitting name, Co-Creators.
---
A year later the City of Stavanger launched an innovative procurement process called Kvikktest. This is concept copied from Forum Virium in Finland, called Agile Piloting.
Co-Creators entered the competition and was selected as one of five companies to pilot their solutions in the Lervig Park. As in the hackathon case the challenge was to re-develop a forlorn park to a socially inclusive green space.
"We have placed three of our prototype activity blocks in the park. The response from the citizens is that this is something new, nice and exciting that they want more of. From before and after observation of the park, we see that people are now stopping and spending more time in the park," says Gunn Kristine Notland, CEO of Co-Creators.
The blocks provide shelter from rain and wind. It is a meeting place for all age groups. "Our aim is for grandma to be able to sit comfortably in an hammock, knitting or gaming, rather than on a hard, wet bench three metres away while the grandchild play in sand and water. We want to give people a dry place to work out in fresh air, while their kids play," says Notland, and adds that the activity blocks have facilities charging mobile phones or lap tops and a small urban garden. "The possibilities are endless," she says.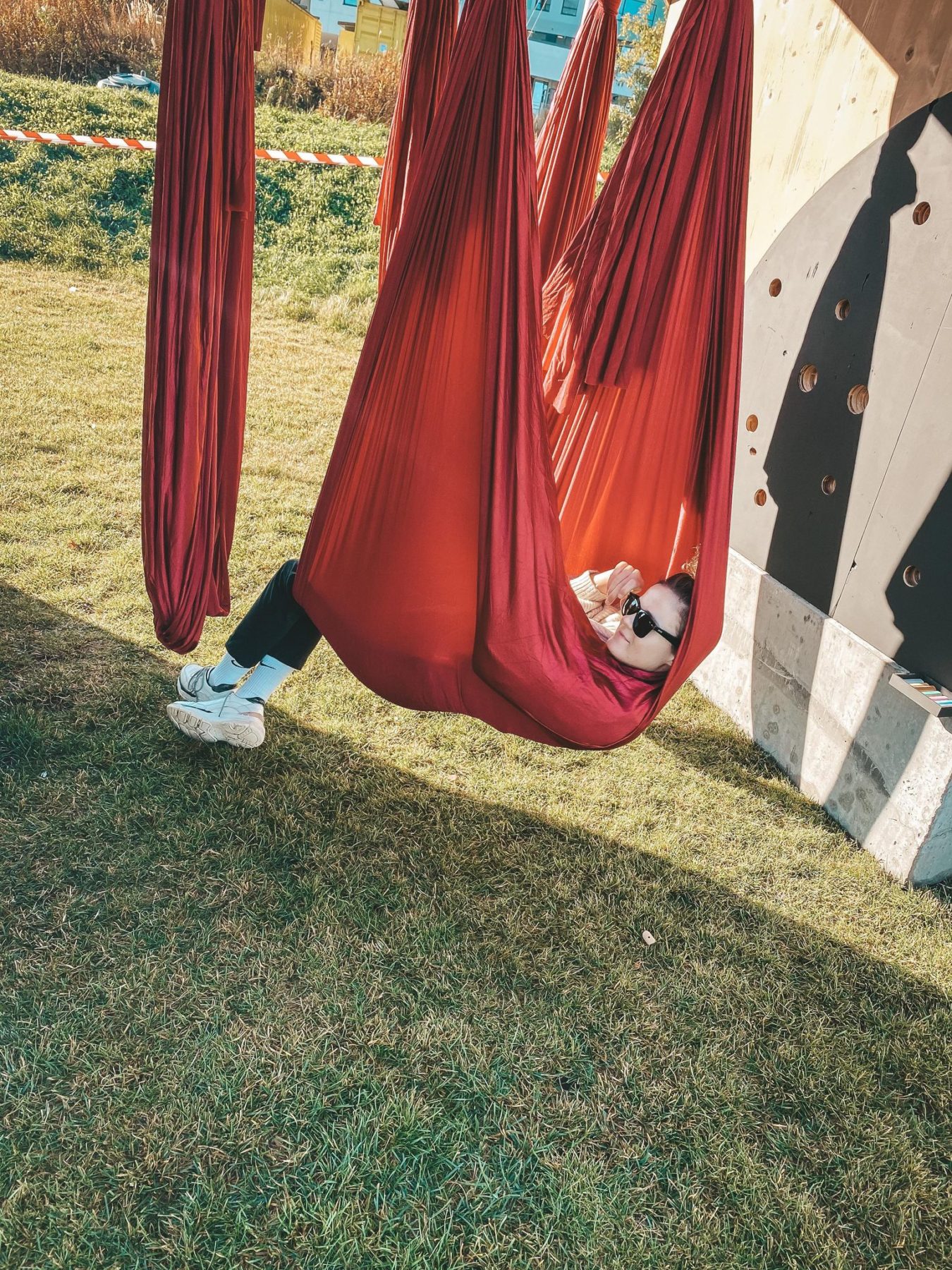 Reusable materials
The activity blocks are made from leftover mass timber from the construction industry. In the future the company want to create a register for builders and construction companies to deliver their leftover materials, in order for Co-Creators, other companies and individuals to utilise it in new products. "Together we can map out the redundant resources we produce and import to our region and find a common ground to reduce our collective waste," says Notland.
"We hope to be able to bring together both public and private actors, and not least the citizens to change the way we think and develop our common outdoor areas. We can focus on reuse, we can focus on natural materials that blend in with nature and that contribute to nature and do not destroy it", she adds.
Co-Creators' activity blocks are for rent and not sale. The purpose of this is for the company to take care of maintenance to make sure they are up to code, do not decay and continues to add value to inhabitants.
We are proud to welcome Co-Creators to the Nordic Edge Cluster and look forward to continued collaboration.
Follow the on Facebook and Instagram: @cocreators.as